Neuli-Manufactured Chairs from the "PROBLEM SOLVER" are completely remanufactured-some say even better than new! The chair seat, back, seat shell, and back shell are fully re-upholstered and are NOW available in vinyl, in a large selection of colors. With a five year warranty on parts and fabric-you can be assured of superb quality from top to bottom.
site #515
Herman Miller «Equa Mid-Back Chair
Shown in Brown Vinyl
$ 319.00 ea
Equa seating was designed for Herman Miller« by Bill Stimpf and Dan Chadwick. The Equa design assumes that nobody sits still - and was therefore built as a very lightweight and mobile chair. The arms are comfortably wide and sloped in front, all edges are soft and curved, and the seat is sloped in front to add circulation to the legs and feet. Available in either high backed or low back. Equa chairs receive a powder coated finish on all exposed metal parts. This is a very comfortable chair!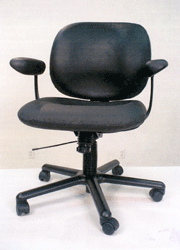 Herman Miller« Ergon
Mid-Back
Shown in Black Vinyl

$ 319.00 ea
Herman Miller« Ergon Chair
This is a smart looking balanced chair. But don't let its simple design fool you-it really performs! It is a heavy duty swivel/tilt chair complete with powder coated arms and mechanisms. With adjustable height its ready for years of trouble free office use.